Registration for the Fall Session at Marikka's will open on Sunday, August 25th at 1:00 pm. 
Teams will be notified of their place in the leagues by 4:00 pm. 
*Due to the weather changing in the middle of the session a reduced number of teams will be admitted into leagues.
For further questions contact Allison Ivetic at marikkasvolleyball@gmail.com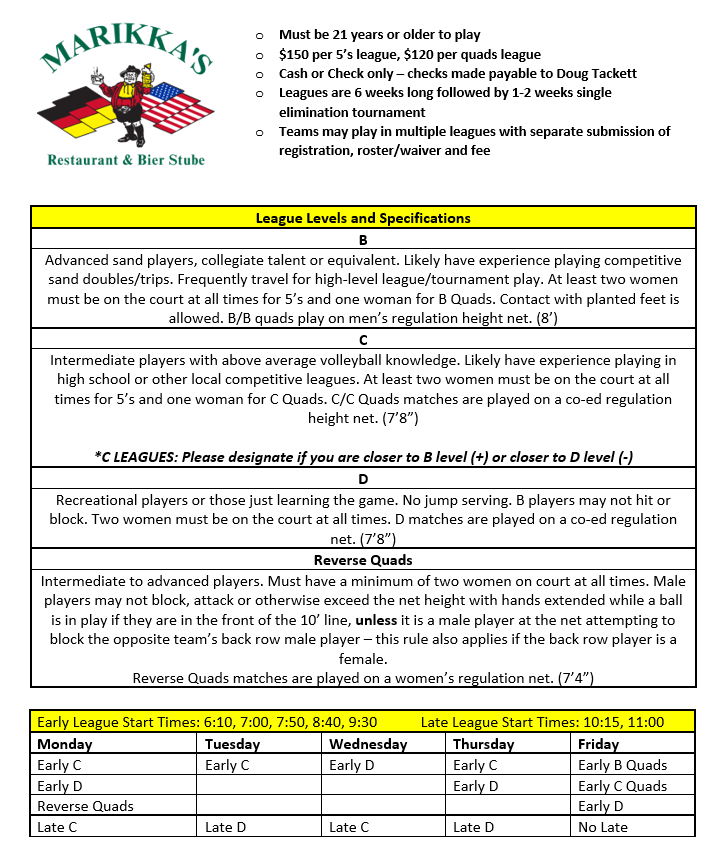 Monday
Monday Early C
Monday Early D
Reverse Quads
Monday Late C
Tuesday
Tuesday Early C
Tuesday Late D
Wednesday
Wednesday Early D
Wednesday Late C
Thursday
Thursday Early C
Thursday Early D
Thursday Late D
Friday
Friday B Quads
Friday C Quads
Friday D
Waitlist
If the league you're interested in does not appear in this list, please submit a registration request to our waitlist in the event of a cancellation or failure to pay.